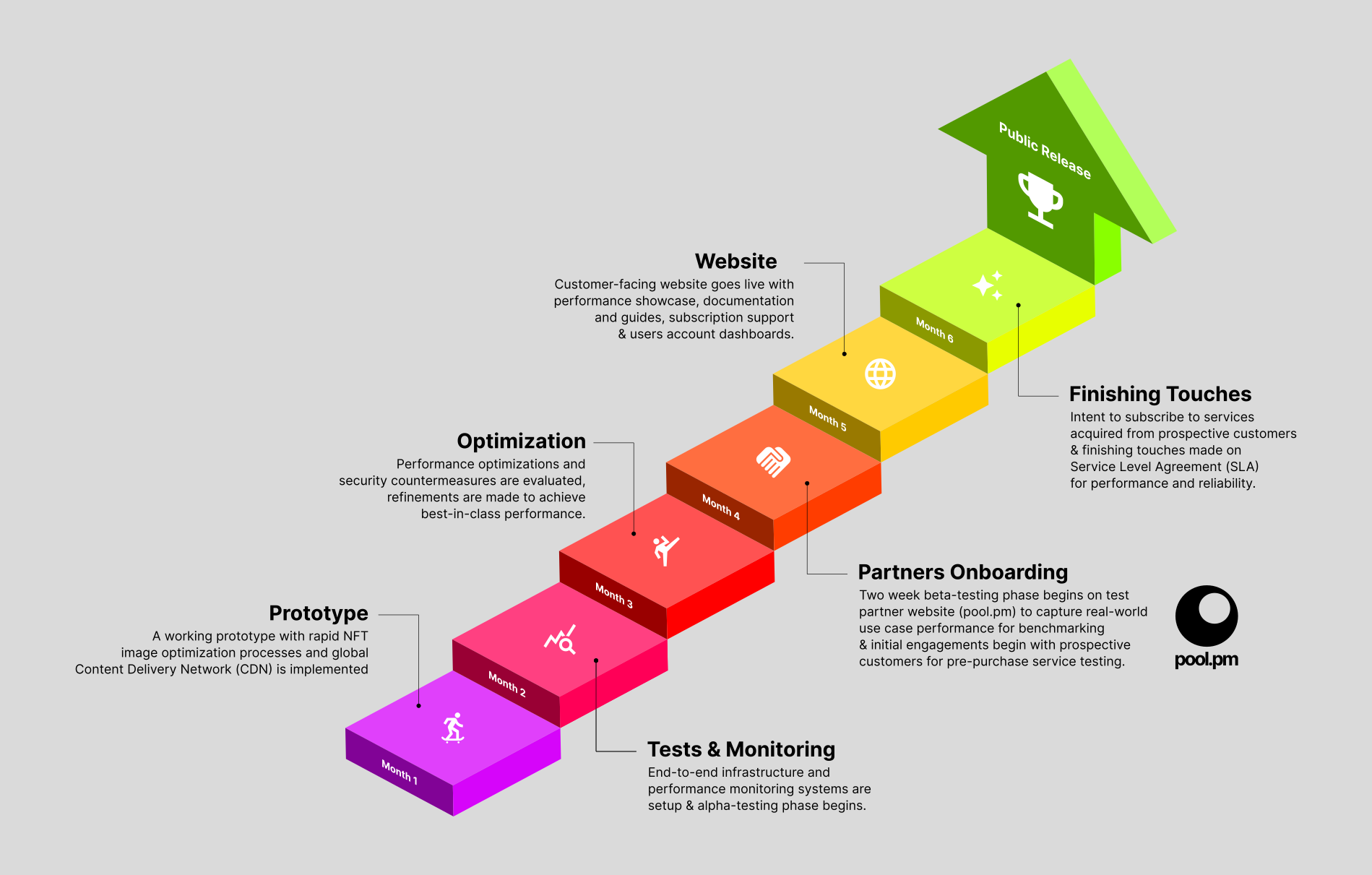 Our 7 key milestones to get us from "Prototype" through to "Public Release"
---
A good project requires a solid plan and robust project management to deliver. We've drafted a roadmap for the next 6 months encompassing our design, development and release phases into 7 key milestones.
Milestone #1 – Kick-Off

Funds have been received, ready to proceed with building infrastructure & development work(s)
Purchase of infrastructure
Configuration of infrastructure
Cardano NFT Metadata Capture System architecture design
Development of NFT metadata capture system
Development of URL resolution
Milestone #2 – Prototype Completed

Worldwide infrastructure setup & metadata capture, storage and parsing system ready to begin alpha-testing phase
Initial system & performance monitoring for 4 weeks
Comparison to benchmarks
Backlog of issues generated
Beta testing partner(s) secured with intent to support
Milestone #3 – Testing & Monitoring Completed

Alpha testing complete, optimisation & user-access development work(s)
Scrums kicked-off to troubleshoot issues identified
Performance optimised for best-in-class performance
Security countermeasures integrated
Customer API query design w/ authorization controls
Initial security tests completed
Month Three | September 2022
Milestone #4 – Optimisations Completed

Optimisations complete, beta-testing phase commences
Service Test Suite created to stress test infrastructure, systems and processes
Monitoring of metrics
Beta-testing phase with onboarded partners begin
Any outstanding issues logged & actioned
Initial engagements with prospective customers begin
Month Four | October 2022
Milestone #5 – Partner Onboarding & Beta-Testing Completed

Development work(s) of customer website begins, results of beta-testing phase showcased
Website stack design work(s) commence
Website authentication module work(s) commence
Website subscription plan model work(s) commence
Website customer Account page commence
Website (incremental) deployment pipeline commence
Documentation & Guidance created
Prospective customers invited to begin pre-release testing of website & services
Month Five | November 2022
Milestone #6 – Website MVP Completed

Website development progressing, finishing touches being applied to service and pricing released
Service Level Agreements created and ratified
Pricing released
Customers engaged to sign up to NFT Content Delivery as a Service
Month Six | December 2022
Milestone #7 – Service Finishing Touches Applied

Service ready for operation, business case final check conducted
Business plan for Y1 - Y5 created
Roadmap creation for release train 2 begins
Service provision begins
We report project progress at regular intervals on our reporting page and also on our Twitter page (@nftcdn.io).
---