The capabilities we bring to you...
---
Our Service – Simplified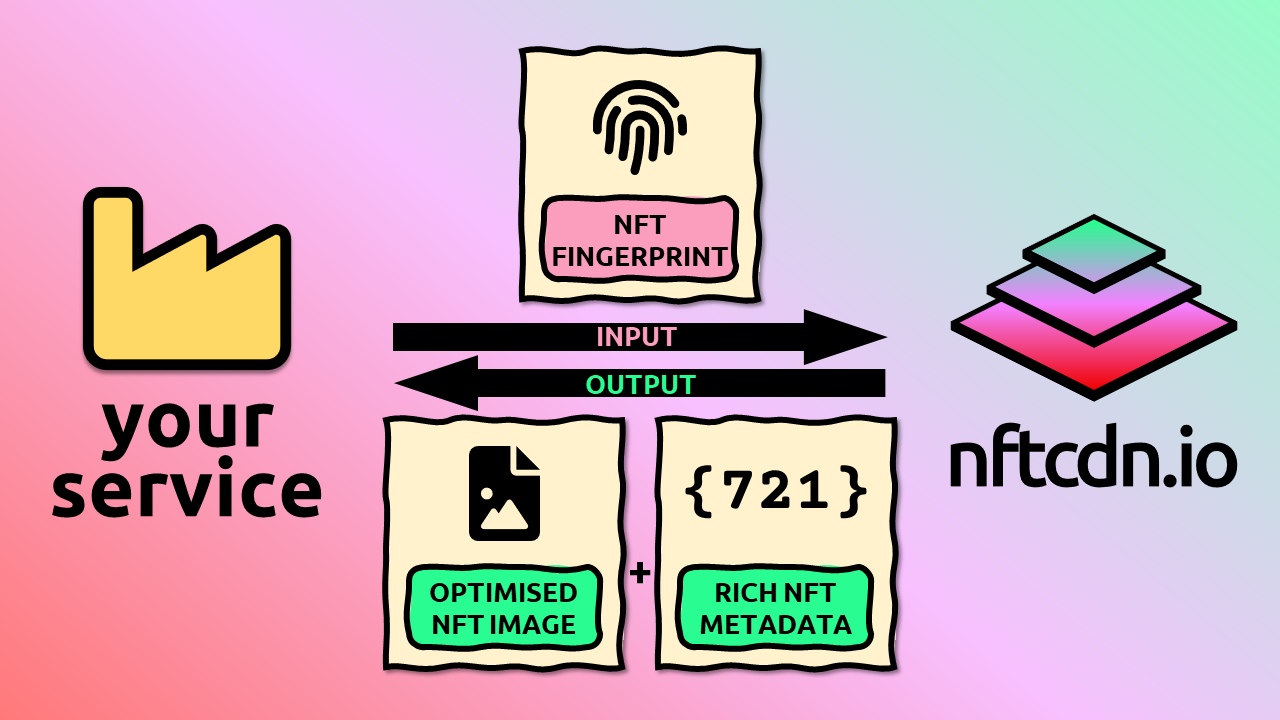 Our aim at nftcdn.io is to make your service provision simpler
You supply us the NFT fingerprint (+output specifications if you wish to modify the image) and nftcdn.io will provide you the optimised NFT content & associated metadata.
Our service removes the need for your teams to dedicate precious development time and effort towards designing, developing, deploying and maintaining an end-to-end infrastructure to serve NFT content.
🏆
nftcdn.io enables you to focus on your core business activities and keep your backend environment as lightweight & cost-effective as possible
Mutli-Source Content Retrieval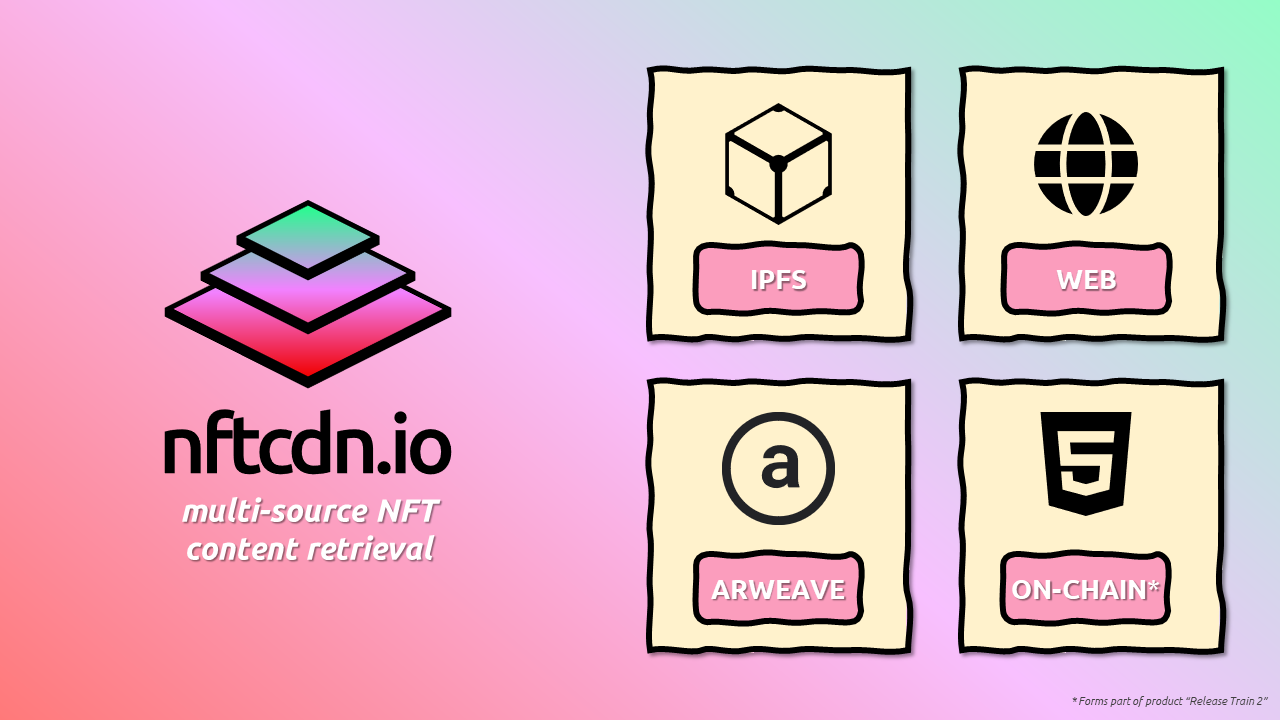 Our mission is to get NFT content wherever they are stored
nftcdn.io is set up to fetch NFT content from a variety of sources, including:
Decentralised peer-to-peer networks (IPFS, Arweave)
Centralised file hosting servers (WWW)
On-Chain code (Base64 encoded)
Our service proactively acquires and stores NFT content in our data-warehouse as they are introduced into the blockchain. This feature:
Eliminates the need for you to store or cache content on your own servers reducing your storage costs as the Cardano NFT ecosystem grows
Reduces the time-consuming step of having to connect to a remote gateway for NFT content retrieval for your end-users
🏆
nftcdn.io retrieves & caches NFT content from multiple sources, substantially reducing your operating costs and speed of content retrieval
Multi-Filetype Compatibility
Our vision is to deliver every type of NFT content
nftcdn.io utilises an Agile approach to product development. Product Release Train (PRT) #1 (June - December 2022) will offer support for image file types (JPEG, PNG, SVG, AVIF, ICO, HEIC, BMP, TIFF, WebP & GIF) - the primary file format used by the vast majority of NFTs presently on the blockchain.
Subsequent PRTs will include compatibility for video, audio, HTML and other file types.
🏆
nftcdn.io works with various image file types & will expand into other file types in future product releases
Value-Add Features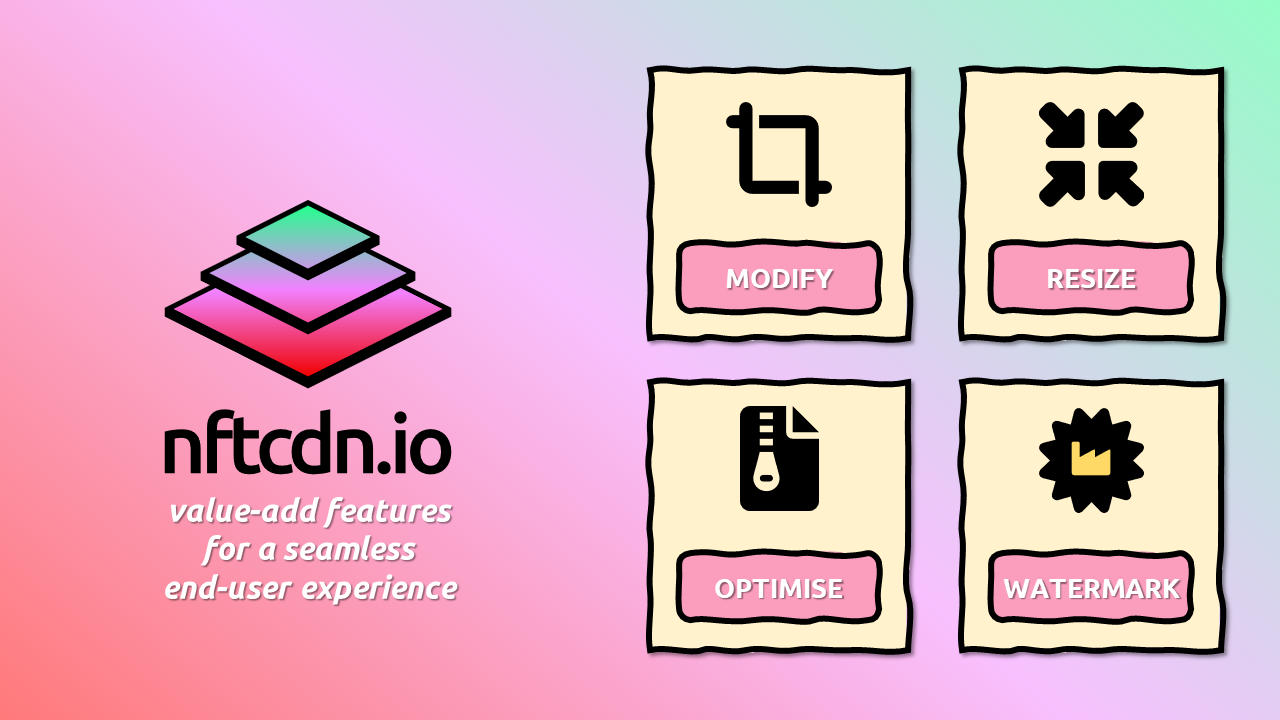 Our value-proposition is to provide optimised NFT content
nftcdn.io sets itself apart from a regular Content Delivery Network by offering value-add features such as NFT content optimisation, including:
Modifying: Cropping, padding, adding filters (blurring/pixelation)
Re-sizing: Re-scale images to any size
Optimising: Lossy / Lossless image compression & file type optimisation
Watermarking: Add your own watermark!
🏆
nftcdn.io offers NFT image customisation & optimisation value-add capabilities along with our CDN offering
Volume-PoP CDN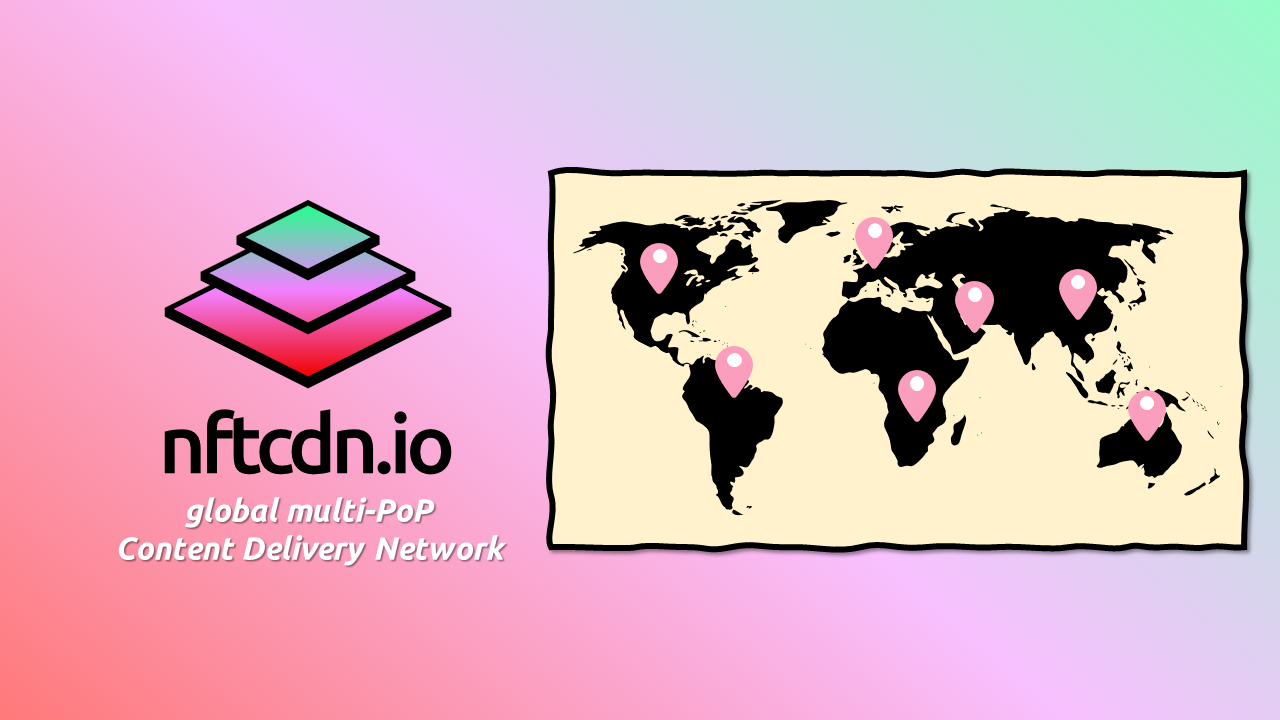 Our goal is to provide cost-effective NFT content delivery through our global CDN
Our Content Delivery Network ("CDN") has been tactfully built for high-volume & strategically distributed around the world to deliver content to your end-users via our array of CDN servers. This ensures that your users receive content form the closest located Point-Of-Presence (PoP) resulting in reduced latency and faster content loading times.
🏆
nftcdn.io owns and operates a vast array of volume-PoP CDN servers bringing optimised NFT content to your end-users
What next?
If your product makes use of NFT content, you can get the ball rolling by filling in our initial customer engagement form and we'll get in touch with you to move things forward!
---